Tags
Related Posts
Share This
Free Easter Party @ Southbank Centre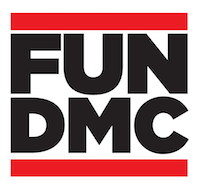 The Daytime Family Block Party
FREE EASTER SPECIAL
1.30pm-4pm Monday 22nd April 2019
Southbank Centre, Belvedere Road, London, SE1 8XX
DJ Russ Ryan & Host Tama
plus…
Dance Teacher || Hip-Hop Colouring In || FUN DMC Stall || Dance Competitions || Prizes & more
FREE ENTRY

All adults must be accompanied by a responsible child
All ages welcome from 6 weeks to 60
Any time FUN DMC take over the main hall of the Southbank Centre you know it is party time! We return for this special Easter Bank Holiday Monday FREE party for you and yours.
Grab your kids, put on your dancing shoes and hit the floor.
If you have never experienced FUN DMC before then this is THE daytime family block party where your Lil Wayne's and Missy Elliots are encouraged to dance, prance, scream and shout to the very best soundtrack of Hip-Hop, Disco, Garage, Jungle, RnB and whatever else is going to get them and you moving.
See ya there!